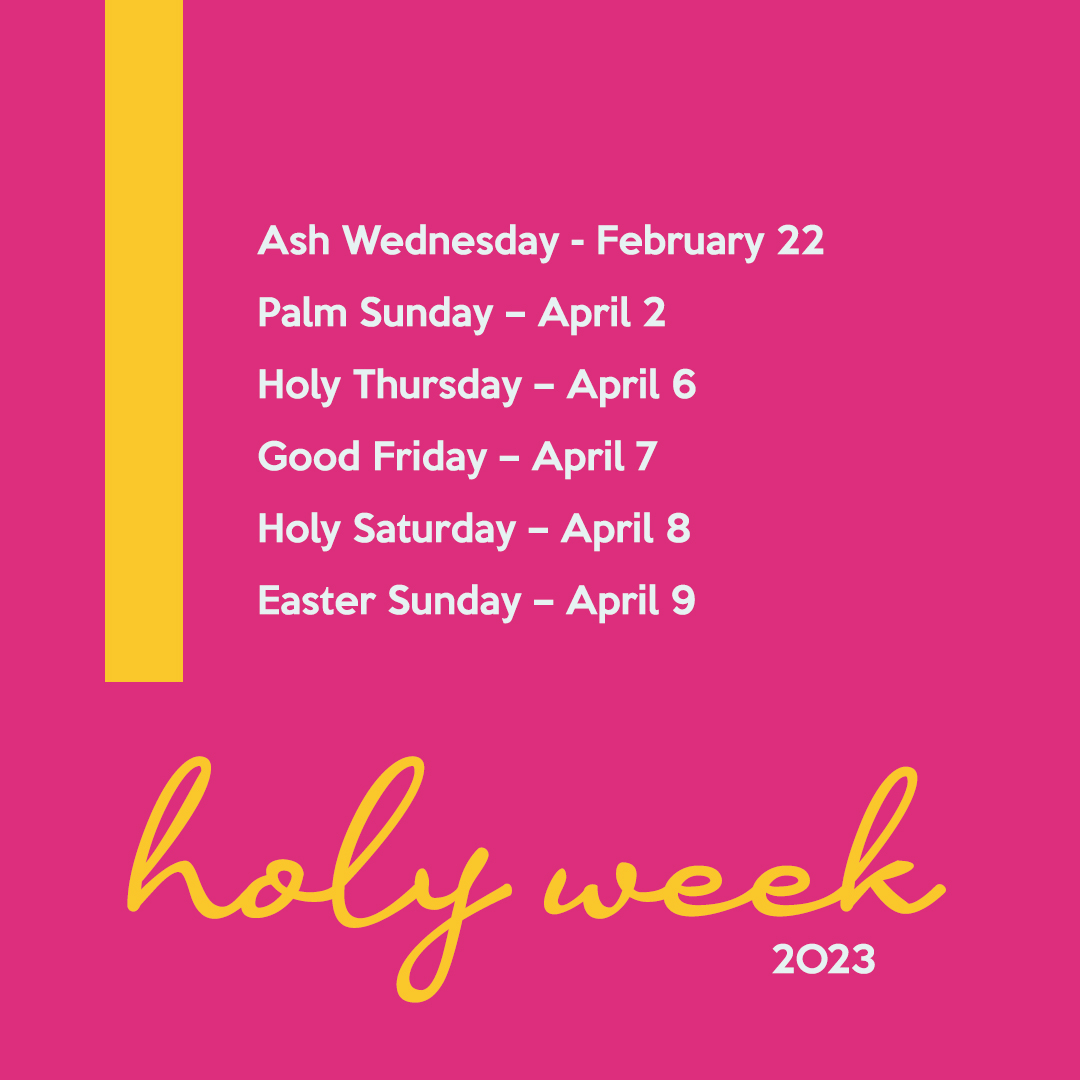 Free Holy Week 2023 Schedule. Perfect for holy week event, personal blog, and any other creative projects you have in mind.
---
Holy Week (Philippines also called Semana Santa / Mahal na Araw)
News / Destination:
Traditional ''Alay Lakad" (Penitential Walk) from Quiapo Church and other parts of Metro Manila and nearby towns of Rizal Province walking, some even barefoot, other parts outside the province to Antipolo City's International Shrine of the Our Lady of Peace and Good Voyage on Holy Thursday and Good Friday.
What to do on Holy Week?
Fasting, abstinence, prayers, the Stations of the Cross, and Visita Iglesia.
Palm Sunday
The men found the donkey, brought it and its colt to Jesus, and placed their cloaks on the colt. Jesus sat on the young donkey and slowly, humbly, made his triumphal entry into Jerusalem. In his path, people threw their cloaks on the ground and put palm branches on the road before him.
Holy Monday
Jesus cursed the fig tree, cleansed the temple, and responded to questioning of his authority. Some observe the anointing of Jesus at Bethany (John 12:1–11), an event that in the Gospel of John occurred before Palm Sunday as in John 12:12–19.
Holy Tuesday
Follows Christ's return to Jerusalem from Bethany, not to be confused with his triumphant return to Jerusalem on Palm Sunday after being tested in the desert.
Holy Wednesday
The story of Judas plotting his betrayal against Jesus with the chief priests is recalled on this day. The day also reminds everyone that he is a spy among the disciples of Jesus, which is why it's sometimes called "Spy Wednesday."
Holy Thursday
Last Supper of Jesus Christ, when he established the sacrament of Holy Communion prior to his arrest and crucifixion. It also commemorates His institution of the priesthood. The holy day falls on the Thursday before Easter and is part of Holy Week.
Good Friday
Christian holiday commemorating the crucifixion of Jesus and his death at Calvary.
Black Saturday
Commemorates the day that Jesus lay in his tomb after he died.
Easter Sunday
Jesus's resurrection. After Jesus was crucified on the Friday his body was taken down from the cross and buried in a cave tomb. The tomb was guarded by Roman soldiers and an enormous stone was put over the entrance. On Sunday Mary Magdalene and some of Jesus's disciples visited the tomb.