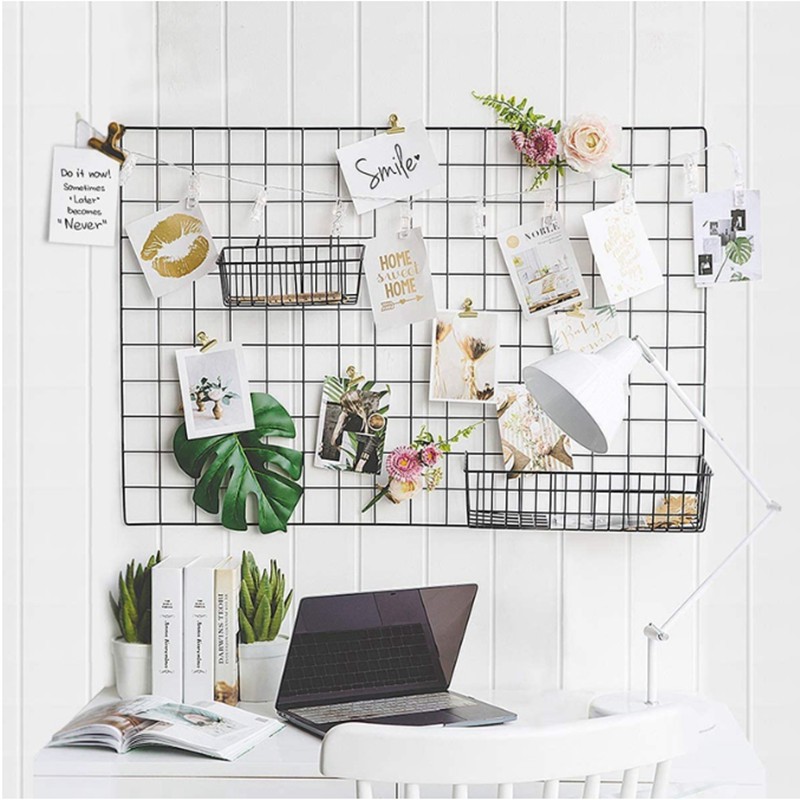 Grid Wall Nordic Multifunctional Art Display Wire Wall
---
Description:
By adopting sturdy iron material, this shelf is durable, with smooth surface and not easy to fall.
With solid color designed, the rack is simple but stylish.
It can be used to organize photos, pictures, postcards and other gadgets.
It can also be used to create plant walls in the interior decoration range.
Must-Haves // Work at Home
---
What To Wear:
---
Must-Haves and Preferred
---
Summer Beauty and Fashion Trends
---
Best Seller
---
Home Decoration
---
IDA Wallpaper 10Mx45CM PVC Self adhesive Waterproof Floral Wallpaper
Function: Waterproof, Moisture-Proof, Mold-Proof, Soundproof, Sound-Absorbing, Heat Insulation, Anti-static.
Applicable: Room, living room,, toilet, office, restaurant and so on
SHD Removable Work Hard Dream Big Quote Wall Sticker
Top-ranking material, eco-friendly, waterproof, safe to use.
Unique English art quote, bring you a unique visual experience..
Wooden Wall Mounted Hook With Shelf Keyboard Home Decor
Perfectly ideal for entryways, this shelf can also be used in kitchen, bathroom, bedroom and it will definitely make your work and life extremely easy.
Modern Wall Painting Canvas Scroll Painting Core Abstract Living Room Art Decor
High Quality Material – Set of simple style, Make your home full of modern artistic.
Prepare your favorite frame, our paintings are perfect with any kind of frame. It's easy to take our prints into the picture frame. It takes only a few minutes to decorate your home perfectly.
Nordic Candlestick Abstract Iron Men Candle Holder Home Bar Restaurant Decor
The product features creative girl shape, which is full of artistic ambience.
It is very suitable for decorating living room, bedroom, porch, coffee table, etc.
Statue Figurine Paris Eiffel Tower Design Decoration Home
100% brand new and high quality. Bronze tone Paris Eiffel Tower figurine sculpture vintage model.
Beautiful and detailed Eiffel Tower statue, is perfect for home decoration and wedding or party centerpiece
Wooden Vase Nordic Wooden Flower Vase European-style Retro Vase DIY Home Decor
Made of high-quality Wood flour material, non-toxic and tasteless, durable, environmentally friendly and practical.
The stylish and beautiful vase shape design, can be placed on the coffee table or cabinet to perfectly decorate your home.
---