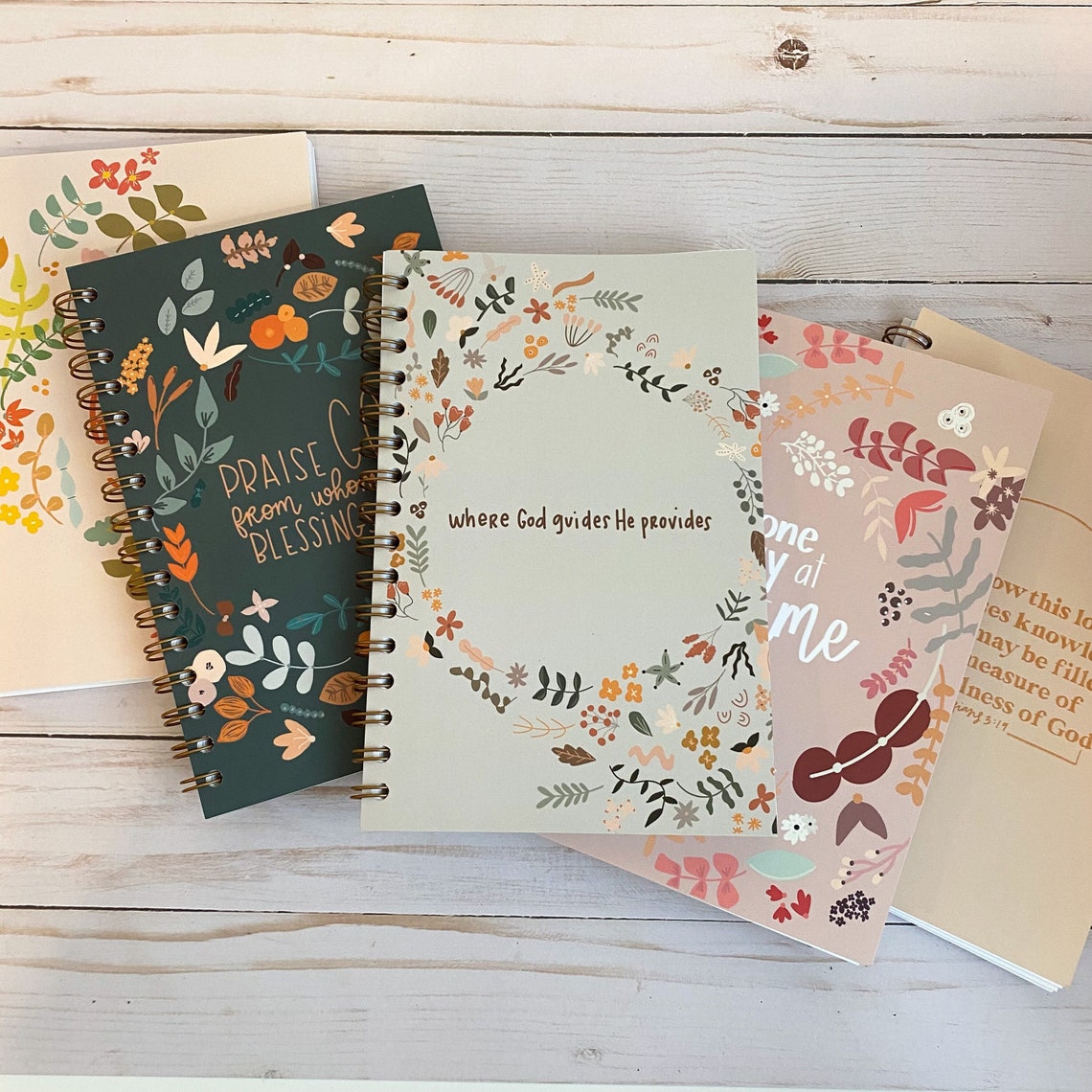 Where God guides He provides– This soft cover journal has beautiful hand-drawn leaves surrounding the words, "Where God guides He provides." What a wonderful reminder to trust in the Lord's plans! These spiral notebooks are great for on-the-go note-taking, journaling, making lists, and more.
Journal Lined Notebook – The chic Beatific notebook and Journal were created for note-takers, journaling or drawing. For those who love to put pen to paper and write down their ideas, thoughts and "brainstormings". It's the perfect companion for your work, taking it with you to meetings or simply personal journaling and reflecting.
Deeply Rooted Devotional Notebook by Angelittle – It has format sections that guide Christians in studying God's Word. Users of this journal will get to know God every day, learn how to study and apply God's Word, and develop the habit of thanking God. It is best for beginners who are clueless about bible study and for those who need fresh devotional experience.
Faith Hope Love Notebook – This soft cover journal has beautiful hand-drawn leaves surrounding the words faith hope love.
6 Pack Christian Notebooks, Lined Daily Prayer Journals for Women, Faith, Gratitude – This set of faith journal for women are ideal for taking notes, as a diary, daily prayer journal, creative writing, or simply just doodling and drawing.
Always Remember You are Braver than you Believe. Stronger than you seem & Smarter thank you think – Lots of space to write all your beautiful ideas and beautiful thoughts.
Ban.Do x Taylor Elyse Morrison Tune In Journal – Each page of this daily journal is centered around five reflective questions intended to boost self-awareness and amplify inner dialogue.
Hand Lettering Through The Psalms: Devotions – This devotional journal leads you through the Psalms while teaching you the basics of hand lettering. Each day has a short devotion, a verse to trace, and a letter to practice. This allows for people of all skill types to be creative because each verse and letter is easy to trace.